Introduction
It looks like the XPERIA X10 mini but acts like what it is – a full-touch feature phone. This is obviously nothing really to shout about as there are hundreds of them around now. It's a first for Sony Ericsson but that's not what makes it special either.
The Sony Ericsson Yendo will not stand being treated like just another touchscreen dumbphone. That Walkman badge commands a different level of respect. Now, does it really or is it what the Yendo likes to think?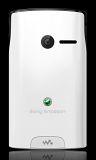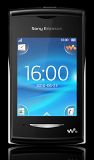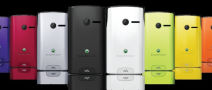 Sony Ericsson Yendo official photos
There isn't much this little fella can actually promise you. But you'll be glad to hear the Sony Ericsson Yendo can keep its word. The Walkman logo implies above average sonic experience that the phone does well to deliver.
Here is what else to expect from the Sony Ericsson Yendo. It isn't much but there's enough to be excited about in terms of social skills and a positive personality.
Key features
Ultra compact

Dual-band GSM/GPRS/EDGE support

Touch-friendly four corner UI

2.6″ capacitive touchscreen of QVGA resolution

2 megapixel fixed-focus camera with video recording

Standard microUSB port for charging and data

Stereo Bluetooth

microSD card slot with support for up to 16GB

3.5mm-compatible audio jack

Facebook and Twitter apps

Wide range of color versions

Attractive price
Main disadvantages
No 3G, Wi-Fi

Smallish, low-res display

Sluggish user interface

Basic music player (for a Walkman phone)

Disappointing camera

No file browser

No multi-tasking

No accelerometer for auto-screen rotation
The Yendo is the first feature phone to come with the Four corner UI, as seen on the XPERIA X10 mini. While it is offering little new, it's still nice looking and intuitive. And that is very important when it comes to touch phones. The expected price of around 100 euro is another point in favor. And the Walkman branding makes it all the sweeter.
As for the other features, they're mostly nice to have but not essential in a package of this kind. Yes, there is a camera on board for example, but with limited functionality and unimpressive image quality.






Sony Ericsson Yendo live images
The touchscreen is on the small size and the resolution is low. On the other hand, the user interface is both thumbable and eye-pleasing so you might not notice the screen's downsides.
You're welcome to follow us on the next page, as we discover the Yendo. The invitation is still good even if you think there isn't much to discover. There're many people shopping for basic touch phones. We guess a Walkman phone that fits the description is sure to draw crowds.