This article is outdated. We have already published a full review.
Introduction
Ah, the power of dual-core processors – it lets you do cool stuff like buttery-smooth multitasking, exciting 3D portable gaming or Full HD videos. The latest Samsung I9100 Galaxy S II packs the new Exynos chipset, which pairs a couple of Cortex-A9 cores with a Mali-400MP GPU. Sounds like a potent mix – at least on paper, so we're eager to pit it against one of the first phones to offer Nvidia's Tegra 2 platform – the LG Optimus 2X.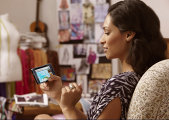 Samsung I9100 Galaxy S II official photos
What we have in our hands is a pre-release test unit of the Galaxy S II, successor to one of the best selling Android phones. Ours runs its two CPU cores at 1GHz but Samsung announced that the speed will be bumped up to 1.2GHz.
Once that's done, the I9100 Galaxy S II would be the most powerful droid – until the competition catches up, which won't take long judging by our rumor mill. Anyway, we're going to use the chance to put Samsung's Exynos chipset head to head with NVIDIA's Tegra 2. We'll be using the LG Optimus 2X for the benchmarks, which runs at the same clock speed as our Galaxy S II – 1GHz.
We're already working on our Galaxy S II preview but until that's done, we just couldn't resist testing some of the most interesting new features of Samsung's latest flagship. Here's what this comparison will be about.
First off, this is our first encounter with the Super AMOLED Plus technology, which improves on an already excellent screen. We'll run the new display through several tests to determine how it stacks up against the old one and other leading displays on the market.
Next, we'll get to the camera department – the Galaxy S II comes with an 8MP still shooter that can capture 1080p FullHD videos. That's our second encounter with such a beast and we'll be pitting it against the LG Optimus 2X camera, that's for sure. A surprising guest star in the camera test is the Sony Ericsson Arc, which we recently reviewed as well.
After that comes the test of what makes the Samsung I9100 Galaxy S II tick – the new dual-core Exynos chipset. Just keep in mind the Galaxy S II retail version will have 20% more clock speed for each of the two CPU cores.
Finally, we'll wrap things up with a real-life performance test – how does the Galaxy S II stack up in real world tasks (we'll be testing the user interface, web browser and games) against a phone with a Tegra 2 chipset (which is quite popular among new smartphones and even tablets).






Samsung I9100 Galaxy S II in our office
Ready? Then let's jump to the next page – but be warned, you are in for some serious display envy.