*****This article is outdated. We have a more through preview. Click here to read it.*****
Introduction
The Samsung Galaxy Note is a player in a game of numbers – and it's drawing higher numbers than the competition. Starting with the 5.3″ 1280×800 pixels SuperAMOLED screen on the outside and all the way to the beefed up Exynos chipset inside with two 1.4GHz cores, the Galaxy Note has +1 on all its specs.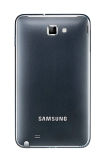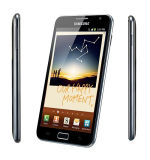 Samsung Galaxy Note
This is hardly where the numbers end, here are a few more – 285ppi for the screen, 9.65mm thick, 8MP still camera, 1080p video camera, 2,500 mAh battery. It's either a Galaxy S II on steroids or a smaller Galaxy Tab 7.7. Whichever way you look at it, the Galaxy Note is an impressive piece of kit.
On top of that (or rather, on the bottom) we have the S Pen, an active stylus, which can be used to jot down notes, control the S Planner organizer and more. The stylus slides into the body, which means it's always around when you need it.






Samsung Galaxy Note visits our office
We haven't had enough time with the Note – it literally arrived in our office a couple of hours ago – but enough for a quick hands-on. These are our initial impressions of the hardware and the camera. We've thrown in a bonus user interface video, so enjoy.
This test unit was kindly provided by CT MIAMI, a Samsung distributor for Latin America. The Galaxy Note will be available at CT MIAMI for wholesale customers on October 24 for $699.