Introduction
The Nokia X3 is our first glimpse into the new Xseries and we're excited to see how things have changed since XpressMusic ran the show. And they have changed, the new angular look is a testament to that. The S40 on the inside has changed as well, throwing Ovi Store and basic multi-tasking into the mix.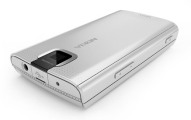 Nokia X3 official photos
Currently the Xseries is composed of two completely different phones. The Nokia X6 is a touch phone running Symbian, and the X3 is an affordable Series 40 slider. It packs stereo speakers, excellent audio quality and a built-in FM radio antenna for a complete sonic experience. All right, we said affordable, so don't go looking for top-notch gear beside the obvious full music package.








Nokia X3 introduces us to the Xseries

The Nokia X3 runs the Series 40 6th edition but it's unlike any S40 handset we've seen before. For a brief, joyful moment, we thought Nokia have finally given in and added multitasking. The truth turned out to be different but still there were small steps taken in the right direction. And you should see what they've done with the Gallery – it's only a notch bellow the S60 one.

But let's not get ahead of ourselves and let's take a look at the Nokia X3 pros and cons.

Key features
Quad-band GSM/GPRS/EDGE support
2.2″ 262K color QVGA display
3.2 megapixel fixed focus camera
S40 user interface, 6th edition; rudimentary multitasking
Stereo FM radio with RDS; Built-in antena (so it plays on the loudspeakers even if you don't plug the headset)
Stereo speakers
Standard 3.5mm audio jack
Up to 26 hours of music playback
Bluetooth (with A2DP) and microUSB port
microSD card slot (16 GB supported, 2GB included)
Rich preinstalled application package
Ovi Store, Ovi Maps and Ovi Share
Main disadvantages:
No 3G connectivity
Smallish display with poor viewing angles and sunlight legibility
Slider action has an unpleasant plastic-on-plastic friction
No accelerometer for screen auto rotation
S40 interface feels clunky and out of date
No true multitasking
No smart dialing or an office document viewer
A bunch of software bugs
Video recording maxes out at [email protected]
The specs look like nothing to be excited about but a shortish feature list never tells the whole story. So, think before you go "Nah, it sounds lame", because you'll be wrong about sound. We spent several days with it and now we're ready to tell you the story behind those specs, the good, the bad and the ugly, the whole thing.









More Nokia X3 photos

Do we have your interest? Good. Jump to the next page where we open the box and take a look at the Nokia X3. After the hardware inspection we'll try to explain what the deal is with this multitasking-but-not-quite situation.