No news is good news and the Nokia 5730 XpressMusic is quite keen to go about humming that tune like it didn't care. Recruiting Symbian for an entertainment job is nothing new really and no, we're not surprised that yet another handset wants to be the N97 of its neighborhood. The Nokia 5730 XpressMusic doesn't really shine but it's fit enough to handle quite a workload. Whether you need a smartphone for the knack or for the fun of it, this all-in-one messenger promises a bit of everything: music, web, gaming and connectivity.
XpressMusic has long crossed the smartphone line but only just starting to take multitasking so seriously. WLAN, GPS and a full QWERTY keyboard go side by side with enhanced music and N-Gage to make the Nokia 5730 so universally appealing. We guess we've had enough proof that Symbian can handle it all, so let's see how the 5730 XpressMusic lives up to its claims.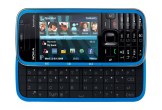 Nokia 5730 XpressMusic official photos
It's pretty obvious there will be quite some Nokia 5630 XpressMusic here. It's virtually the same handset – add or take. So, what's the deal in the end with adding QWERTY and a bigger screen and taking some processing power?
Key features
2.4″ 16M-color TFT display of QVGA resolution
Four-row side-slide QWERTY keyboard
Quad-band GSM and tri-band 3G (with HSDPA) support
Symbian OS with S60 3.2 UI
369 MHz ARM11 CPU
3.5mm standard audio jack
microSD card slot, 8GB microSD card prebundled
3.2 megapixel auto focus camera with a dedicated shutter key, geotagging and VGA video at 30fps
Wi-Fi 802.11 b/g with UPnP technology
Built-in GPS receiver and preinstalled Nokia Maps
USB and stereo Bluetooth (A2DP) connectivity
FM radio with RDS plus Internet radio
Dedicated music keys
N-Gage support
Dedicated gaming keys
Ovi Contacts integration
Office document viewer
Smart dialing
Contacts bar on the homescreen
N-Series-like gallery
Nokia Say and Play (voice control to music player)
Main disadvantages:
Fingerprint-prone cheap-looking plastic build
No DivX/XviD support out of the box (can be installed, possibly requiring a purchase)
Average camera performance
Poor battery life
No TV-out functionality
The Nokia 5730 XpressMusic is treating the younger crowd to the all-round skill of dad's E75. Alright, it may not be as simple as that but the 5730 is only just some corporate email (and plenty of steel) short of Eseries excellence. The XpressMusic QWERTY messenger is heavy on entertainment of course – dedicated music keys and N-Gage-conscious design, along with full pack connectivity. The complete keyboard, elaborate organizer, the office package and GPS are enough to start talking business.






Nokia 5730 XpressMusic live shots
Well, even if the dedicated gaming buttons and the digital-style alphanumeric font used on the keys leave little doubt about the target audience demographics, the Nokia 5730 XpressMusic looks too big for its niche. The first QWERTY messenger in Nokia's music lineup is a solid smartphone package that's definitely worth the test ride.
Be you young in age or spirit, you are welcome to stick around. Back with unboxing right after the jump.