At a pre-MWC press event, Sony Ericsson presented their latest batch of smartphones. They gave us the QWERTY version of the Vivaz and a double mini version of the XPERIA X10 – the Mini and the Mini Pro. While the Mini version of the X10 was far from a surprise, the qwertified Mini was certainly a novelty.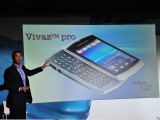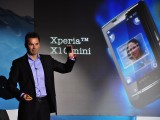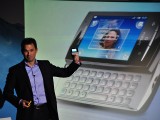 Presenting the new devices on stage
Sony Ericsson Vivaz and Vivaz pro
The Sony Ericsson Vivaz Pro is only 2mm thicker than the original and features the same HD-totting specs. It will be available in Black and White color versions and should hit the market in Q2 2010. The original Vivaz should make it earlier in Q1.





Sony Ericsson's latest phones * Sony Ericsson Vivaz pro compared to Sony Ericsson Vivaz
The QWERTY keyboard of the Vivaz Pro is quite comfy, with keys nicely spaced. The only thing we can wish for is a little better keypress feedback. Anyway, they might as well fix that, they still got at least a couple of months ahead.






Sony Ericsson Vivaz pro
Sony Ericsson XPERIA X10 mini and X10 mini pro
The Sony Ericsson XPERIA X10 Mini is indeed a nifty little smartphone. Smaller than a credit card, the Mini and its Mini Pro reincarnation both pay a price for their compact size. Their 2.55″ screens have QVGA resolution only.








Sony Ericsson XPERIA X10 mini
Quite surprisingly, the Mini pro keyboard is rather nice to type on. Sony Ericsson are making quite a point out of the fact that the compact phone allows even single-handed typing.


Both Mini's run on the Android 1.6 and feature the Sony Ericsson signature Timescape communication application. Other than that, the Android OS is heavily skinned. Certainly the low resolution has taken its toll on the UI design as well.





Sony Ericsson XPERIA X10 mini pro compared to Sony Ericsson XPERIA X10 mini
In the four corners of the homescreen there are four customizable shortcuts, while the home screen widgets are side scrollable and each of those takes the whole homescreen.
There is no virtual on-screen keyboard on the Sony Ericsson XPERIA X10 mini so if you go for the qwerty-less variety, typing will surely be a pain.