Introduction
Android elders must be staring at this one in disbelief. Looking down at it for all we know, measuring it up. What about the BACKFLIP? We guess it's exactly the kind of gadget to stare back, humble but defiant.
Android was a life-saving blood transfusion for Motorola. Not only did the MILESTONE put them back on the map – it gave them a license to experiment. They didn't think twice to take it. So here we are, watching the BACKFLIP do the robot dance. This one is no ordinary droid, though at first it might look like a faithful follower of the G1. QWERTY keyboards fell out of Android favor soon after the G1 but we're witnessing a strong comeback, much credit for which goes to Motorola.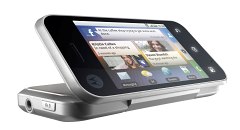 Motorola BACKFLIP official photos
So, QWERTY it is but the Motorola BACKFLIP wants to have it its own way. So much so that it doesn't seem to care what you think. Unique as in "shame no one thought of it before" or in a freak of nature sort of way, the BACKFLIP won't leave you indifferent. It's got a one-of-a-kind form factor written into its name but the whole backflip thing seems to serve a higher purpose than simply drawing attention to an otherwise ordinary package.
It all makes sense once you've used the BACKFLIP for a while. The uniquely folding full QWERTY keyboard, the BACKTRACK touchpad and the capacitive touchscreen are all there to put you in control. It's an unusual phone to interact with but in a good way. On the inside, premium connectivity options are standard here, but the earliest Android version does sound underwhelming. It has the social-networking-centric Motoblur on top and that makes sense in a QWERTY-enabled midrange smartphone. More importantly though, the promised Android upgradeability makes the BACKFLIP likely to stick around.
Key features
Unique form factor and sturdy build quality

Quad-band GSM and quad-band 3G support (7.2 Mbps HSDPA)

3.1″ 256K-color 320×480 pixel capacitive touchscreen

Android OS v1.5 (upgradeable to later versions) with MOTOBLUR UI and Live Widgets

Folding four-row QWERTY keyboard

BACKTRACK touchpad at the back of the screen

Qualcomm MSM7201A 528 MHz processor; 256 MB of RAM

5 MP autofocus camera with LED flash and geotagging

CIF (352 × 288 pixel) video recording @ 30fps

Wi-Fi and GPS with A-GPS

512MB storage, microSD slot, bundled with a 2GB card

Accelerometer and proximity sensor

Standard 3.5 mm audio jack

microUSB port (charging) and stereo Bluetooth v2.1

Noise cancellation with a dedicated microphone
Office document viewer
Main disadvantages
Poor sunlight legibility

No multi-touch

One-finger zoom works only on the BACKTRACK touchpad

No smart and voice dialing

Limited camera features, lens on the QWERTY keyboard

No free GPS navigation solution

No Flash support for the web browser

No FM radio

No DivX and XviD video playback

Below par audio quality
Everyone is keen to make Android phones, but Motorola seem to know how to make a difference. The BACKFLIP hits the right spot and the novel form factor puts together standard navigation tools to offer unique handling. The back-folding keyboard may look like a questionable choice, but it won't take you long to reconsider.







Motorola BACKFLIP at ours
The BACKTRACK touchpad at the back of the screen is another nice touch. It does what a front-mounted trackball will do but on the BACKFLIP you scratch the phone's back instead. Anyway, effectively you have three different ways to interact with the handset: touchscreen, touchpad and a full QWERTY keyboard. Just imagine BACKTRACK on a transparent display – wicked stuff. But who knows maybe that's where it's all heading.
Well, we for one are not going anywhere before we've seen all of the BACKFLIP.