A cool looking touchscreen carrying a new mobile OS was enough to get the attention of even the most hardened of them techies last time we checked. Fair enough, the HTC Magic isn't groundbreaking but the Cupcake-ful of changes it brings, promise a whole new experience.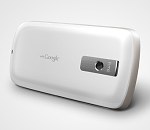 HTC Magic official photos
Well, for starters the Android sure looks more human. The formidable and weapon-like G1/ HTC Dream needed every ounce of weight to stand its ground. With an honestly lighthearted and disarming approach, the HTC Magic is willing to play by the conventional touchscreen rules. And may as well be eyeing massive sales. Compact dimensions and distinct styling, decent all round functionality and system expandability, the HTC Magic seems to have what it takes to keep both smart and feature phone touchscreens on edge. The second edition of the OS should have dealt with the issues of the forerunner and given the Magic that extra bit of pace. So, what do you call a good platform getting better and a gadget looking more mainstream but still creative enough? We call it good sense but who knows, it may be Magic.
Key features
Android OS v1.5 Cupcake
3.2″ capacitive touchscreen of HVGA resolution
Qualcomm MSM 7201A 528 MHz CPU, 192/288 MB RAM
Quad-band GSM/GPRS/EDGE support
3G with HSDPA 7.2 Mbps and HSUPA 2Mbps
3.15 megapixel autofocus camera
Wi-Fi 802.11 b/g
GPS
Trackball navigation
Accelerometer sensor
Digital compass
Compact and stylish body
Main disadvantages
No video-call camera
No Flash support in the web browser
No file transfers over Bluetooth
No FM radio
In the beginning there was the unforgiving vastness of G1. Come to think of it, mobile phone evolution has always moved from huge to small. Android for one is quite aware and unafraid to press the fast-forward on evolution. Anyway, Google and their HTC counterparts feel confident enough to concentrate on style. Size mattered when they were about to take their first dip in the shark pond. Size matters even more when they're gearing up to beat a legion of seasoned touchscreens at their own game.






HTC Magic live shots
Full-touch handsets have been all the rage, and every manufacturer is putting their best effort to not merely stay in the game but influence it. Google DNA and HTC craftsmanship, the Magic almost has the impact guaranteed but how it translates into actual sales is perhaps the first thing on everyone's mind.
The HTC Magic is in for a real challenge and we are keen to see what it's got. We're back after the jump and ready to judge the game plan by the kit.