Introduction
iPhone 4 launch day came and went and Number Four has taken over. Today, as the dust settles, we hope to move away from the hype and take a clear-headed look at what's new in the iOS4. No, this isn't a full-featured iPhone 4 review, nor is it intended to introduce you to the OS basics.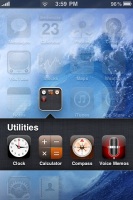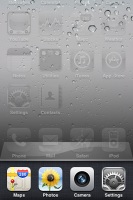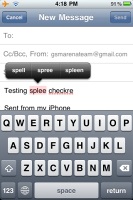 Apple iOS 4
Instead we'll stick to the new stuff. And Apple promised lots of that: multitasking, homescreen wallpapers, a revamped email app, and more. Here is our brief scoop on all the new stuff and all that's still missing.
What's new:
Homescreen wallpapers

Folder organization of the homescreen icons

Multitasking and fast app switching

Google/Wikipedia search in Spotlight

Bluetooth keyboard pairing support

SMS character counter

SMS search

Email threading

Unified Email inbox

Email archiving is now available when you setup Gmail

Spell checker

iPod music player can now create, edit and delete playlists

5x digital zoom in still camera

Touch-focus in video capture (for video enabled iPhones)

Keyboard layouts span over QWERTY, QWERTZ, and AZERTY

Minor icon design facelifts

Video call support (only in iPhone 4 and only over Wi-Fi)

iBooks e-book and PDF reader
What's still missing:
No Flash support in the web browser

No true multitasking for all applications

iOS4 for iPhone 3G has limited new feature set

Poor performance on iPhone 3G

No quick toggles for Wi-Fi, Bluetooth or 3G

No social networking integration

No info widgets on lockscreen or homescreen

SMS tones are still not customizable

No mass mark emails as read

No proper file browser or access to the file system

No USB mass storage mode

No vibration feedback when touching the screen

No Bluetooth file transfers to other mobile phones

Contacts lack a swipe-to-delete or mass delete feature

No SMS/MMS delivery notifications

No smart dialing (but Spotlight is a somewhat of a substitute)

No DivX or XviD video support and no official third-party application to play that

The whole iPhone is too dependent on iTunes – you cannot add the same type of content (video, photos, apps) to the phone from two computers, a regular file management interface would have been much better
With the iPhone it's never about what the phone can or cannot do. The iOS 4 however seems finally determined to catch up with most of the today's smartphones. You're not to expect miracles though – such as a file browser, USB mass storage mode, web Flash support, and other stuff that seems irrelevant to Apple.
Anyway, we've tested iOS 4 on both an iPhone 3GS and a 3G. It's worth noting that a lot of the new features aren't available on the now discontinued iPhone 3G. Worse yet, the iOS 4 is heartbreakingly slow on the 3G. We somehow feel though that the average iPhone user is way more likely to go straight to Number Four than bother install the latest OS on an older device. Or at least that's what Apple would prefer.
Anyway, it's time to start our iOS 4 tour.